Connecting the iPads
The Hamilton T1 ventilator can be connected as an Additional Monitor
Connect your usual monitor/defibrillator in the yellow case to the control iPad in the usual way
With an additional iPad, select Staging and then select Connect as Additional Monitor
Tap on the iPad you want to connect to
Tap on Connect
Now select the Hamilton T1 ventilator tap on Select.

Patient demographics
Once all of the iPads are connected it's time to choose the patient demographics of the scenario
On the Control iPad select Scenario Information
Scroll down to where Patient Sex, Age Category, Height and Weight are seen.
Enter the appropriate information for your scenario
Tap on Update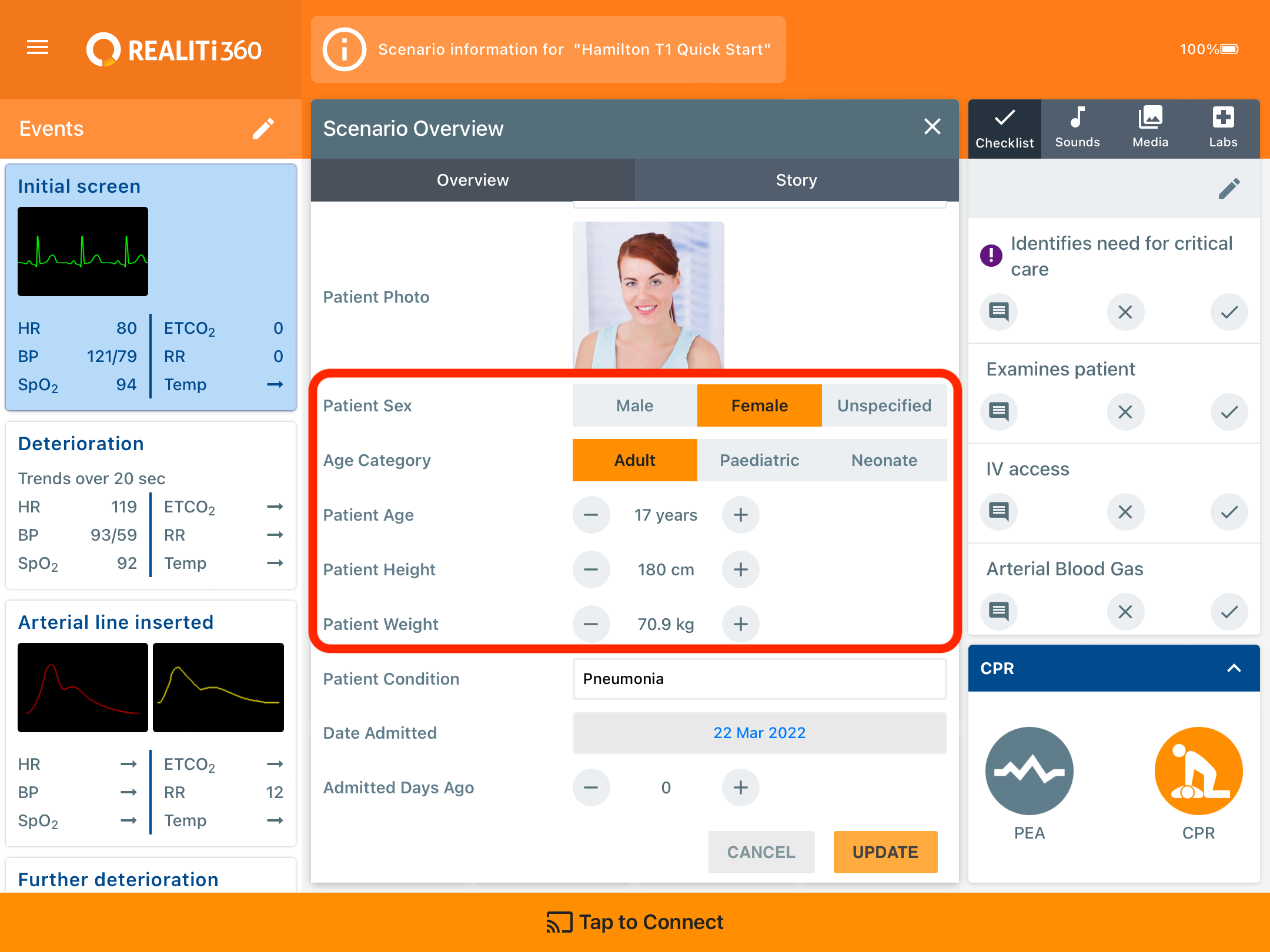 Please note that once Patient Sex, Age and Height are entered, an Ideal Body Weight is auto calculated and we recommend using this.
Now you are ready to press Start.
Starting and connecting the ventilator.
Up to this point, the ventilator is available but it is not activated or connected.
To Start the ventilator, tap on Start Ventilation on the Hamilton T1 screen.
To Connect the ventilator to the 'patient', go to the Ventilator tab on the Control iPad and select Connect Ventilator.
Once Connect Ventilator is activated, REALITi will automatically adjust SpO2, ETCO2, ETCO2 waveform and ETCO2 rate according to Patient Demographics and Patient Lung Condition
Patient Lung Condition
To change Patient Lung Condition:
Tap on the centre of the ETCO2 dial on the Control iPad
Select from Normal, ARDS, Asthma, COPD, COVID and Fibrosis. You an also select varying disease states of Mild, Moderate and Severe.
Tap on Send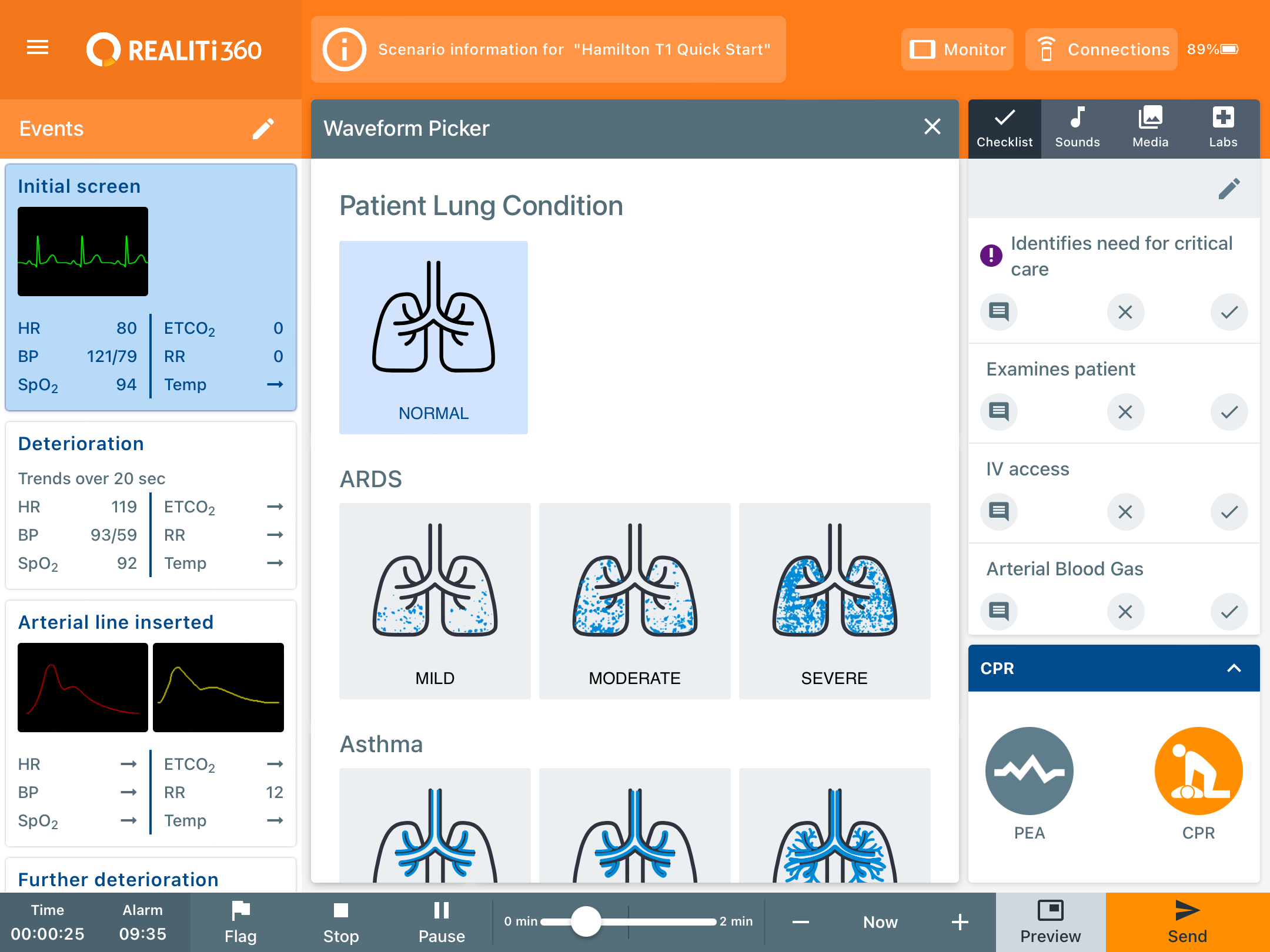 Incidents
To select an Incident
Tap on the centre of the ETCO2 dial on the Control iPad
Tap on Incident
Select from Bronchial Intubation, Mild Bronchospasm, Severe Bronchospasm, Critical Bronchospasm, Pneumothorax, Tension Pneumothorax, Pulmonary Embolism - Small, Pulmonary Embolism - Large
Tap on Send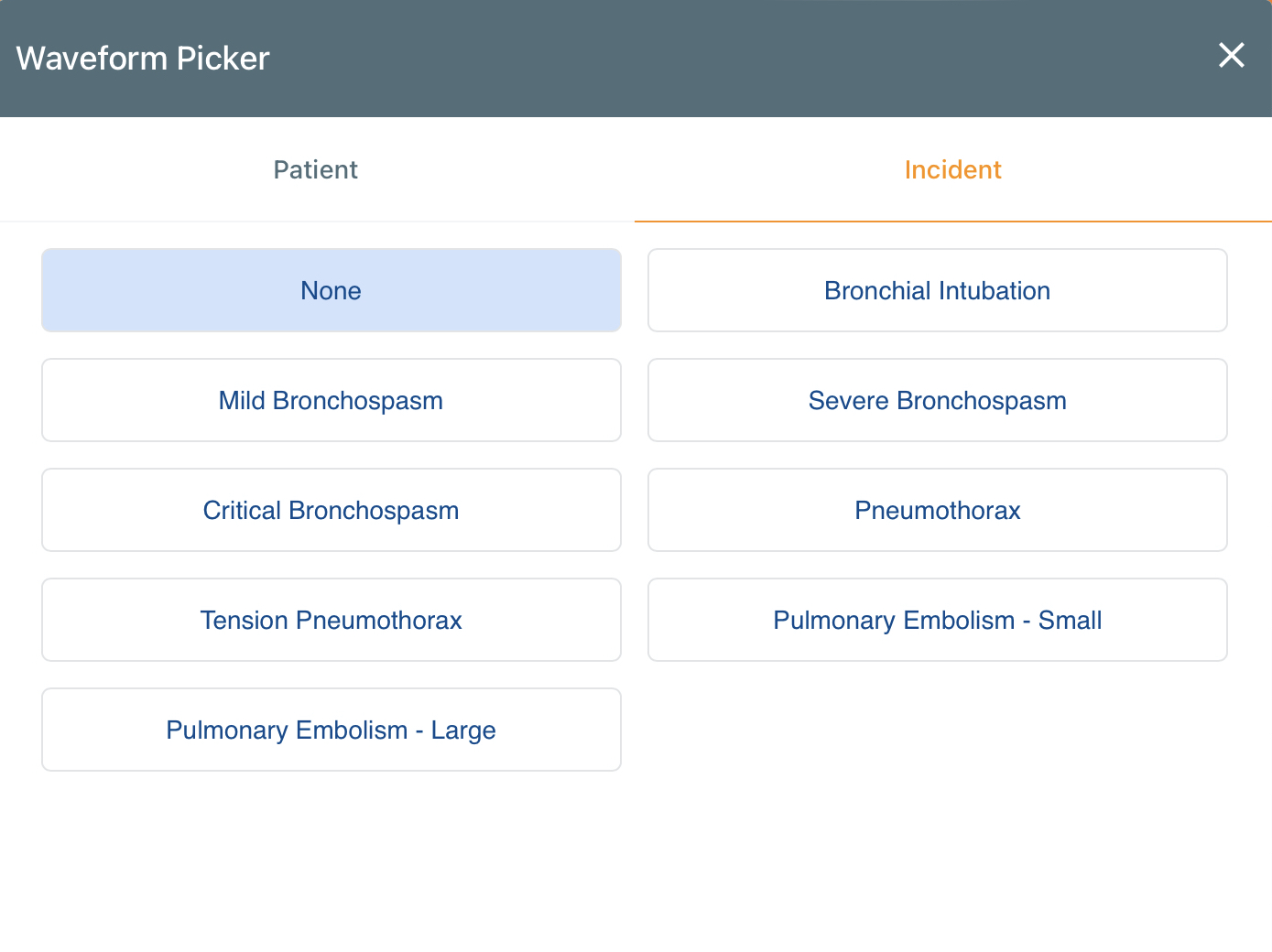 Ventilator Remote Control from Control iPad
Generic ventilator parameters such as tidal volume, frequency, pressure, FiO2, etc can be controlled from the Ventilator Tab on the Control iPad.
Change parameter(s) and then tap on Send