REALITi automatically keeps track of everything during a scenario.
This includes changes to vital signs, waveforms, CPR start and stop, shock delivery, checklist items, media and lab results.
In addition, if any Flags are selected, these are recorded as well.
When connected to Camera and with video recording selected, REALITi becomes a simple to use video review and debriefing system.
Scenario Review and Debrief
Once a scenario has finished, tap on Stop on the Control iPad.




You will then see the Scenario Review Screen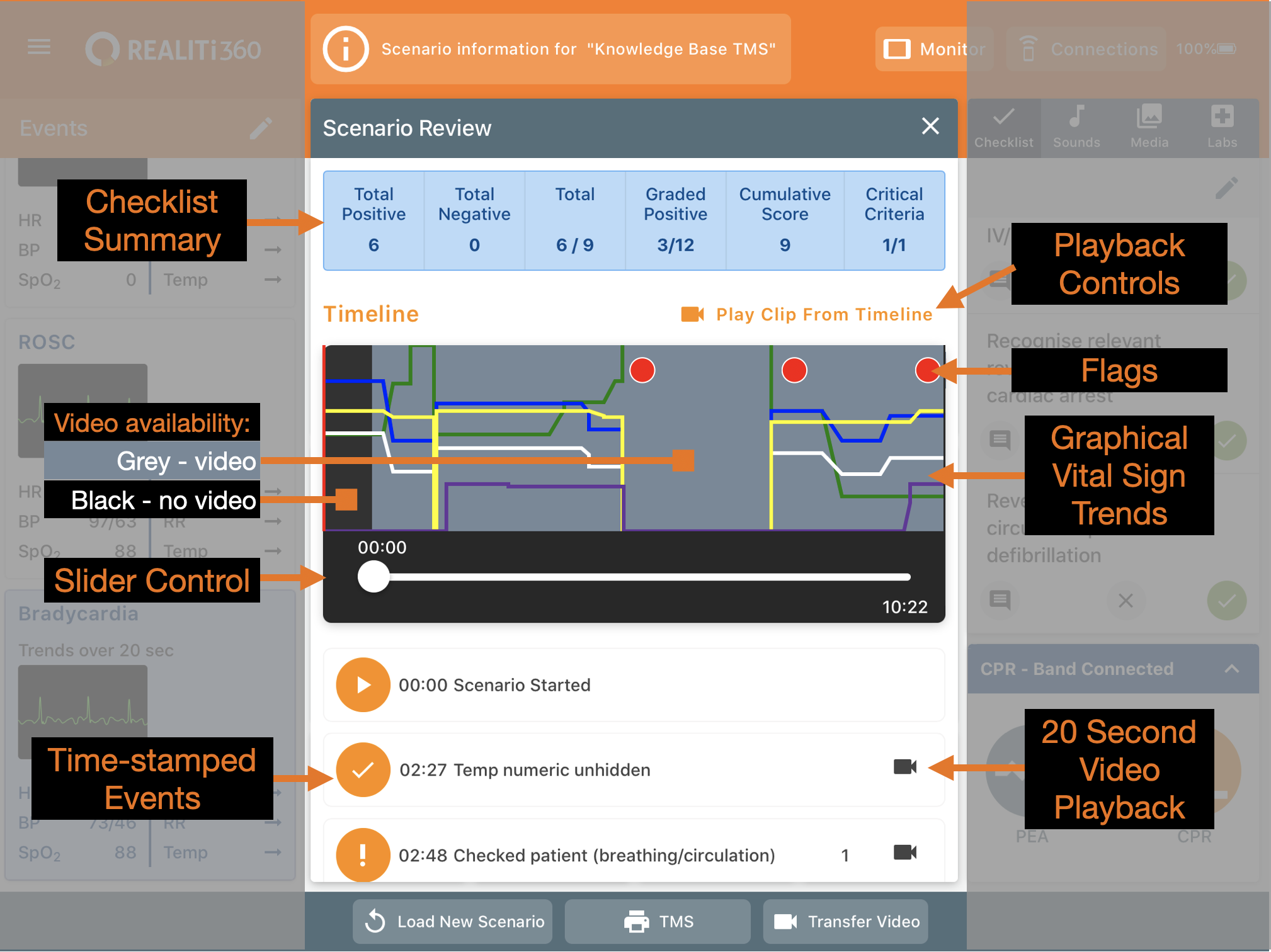 Checklist Summary - a summary of the results of the checklist items in the scenario
Total positive
Total negative
Total
Graded Positive
Cumulative score (Total Positive + Graded Positive)
Critical Criteria
Graphical vital signs trend
Heart Rate - Green
SpO2 - Yellow
Systolic Blood Pressure - Blue
Diastolic Blood Pressure - White
CO2 - Purple
Graphical vital signs background colour
Grey indicates a video has been recorded
Black indicates no video has been recorded


Slider control
Drag this to move the red vertical timeline bar.


Playback controls
Play, pause and stop video playback indicated by the red vertical timeline bar


These are shown as red circles on the graphical vital signs trend


Time-stamped Events

This shows all time-stamped events such as
Checklist items
Flags
Show/hide vital signs
Device interactions
Defibrillation
CPR module detection


iVAD - instant Video Assisted Debriefing
The video camera icon next to a time-stamped event shows that a 20 second video is available.

When pressed, video playback will start at 10 seconds before the time-stamp and continue to play for 10 seconds after the time-stamp and then stop.
It's an ideal way to provide instant Video Assisted Debriefing (iVAD)
Transfer Video
Press this button to transfer the recorded video file from the Camera to the Control iPad.
The video will be saved in the Photos App on the iPad.
The video has the vital signs overlay included.


TMS
Tap on this button to open up the scenario review in the Training Management System