The lowest bar on the control screen display and controls the following:
Elapsed Time, Countdown Alarm, Flags, Stop and Pause Scenario, Virtual timer, Trend buttons, Preview screen and Send

Time
Elapsed time since beginning of scenario.
Alarm
Countdown which is set for each scenario in Scenario Information
Both of these Times are influenced by the Virtual Timer
Flag
This allows you to mark or flag an event in a scenario. These are displayed in the Scenario Review once the scenario has ended.
Tap on Flag to open up the Marker Menu
Choose a Marker - Tap on one of the pre-defined markers
New Marker - Tap in the New Marker box to type in a comment and then press Flag
Flag - Tap on Flag to juts add a new Flag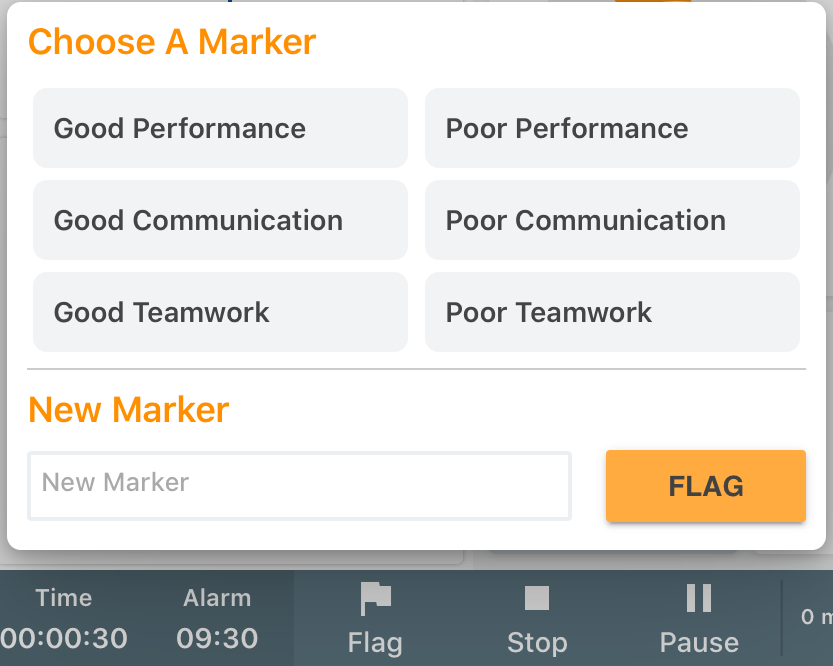 Stop
This stops the current scenario and displays the Scenario Review
Pause
The pauses the current scenario. The Monitor screen becomes black with the message Scenario Paused and all sounds are muted.
Tap on Play to restart scenario.
Virtual Timer
Slide this to advance time artificially in a scenario. This can help with shortening the time for CPR cycles if required.
Trend buttons
See Trending
Preview
Tap on this to show a preview screen on Control of what the vital signs will be if you have changed a value but not pressed Send
Send
This will send any changed values to the monitor screen